The Thunder Road Half Marathon completely surprised me today. Despite my lack of training and preparation, I still managed a 5 minute PR. I am so excited and in disbelief that I had such a great race. All the signs leading up to the race were pointing to a lackluster performance but once I got out there everything was right on.
Let me explain the "lack of training" aspect of this. I know that I just ran a marathon but that was six weeks ago and my running has been minimal since. I have averaged two runs per week and only two long runs – a nine and 10 miler. And the lack of preparation was in regards to not altering my routine this week and not fueling properly the days leading up to the race. I'm not sure how I pulled this off but I'm just going with it! 😀
I love running hometown races. There is nothing like sleeping in your own bed and getting ready the comforts of your house. I woke up at 5:55 this morning, showered and had breakfast and coffee.
Same ole, same ole but I had a hard time choking it down this morning. I wasn't feeling 100% and only ate about half. I quickly dressed – it was painless because I laid out my clothes the night before. Makes for a stress-free race morning when you don't have to search for things.
From the head down: hat, fleece headband, half zip, PBR shirt, two pairs of gloves and cropped tights. The temperature was around 30 degrees at the start and I was anticipating upper 30s at the finish. I ended up giving one pair of gloves and the fleece headband to a friend who was spectating at mile 5.
Jen, Brittney, Michelle and I planned to meet before the start. I parked about a half mile away and slowly jogged to the convention center to stay warm. I love that Thunder Road allows you to wait inside until it's time to line up. We chatted about our pre-race nerves and before we knew it, it was time to line up. The starting area was a nightmare. Complete chaos – we were never even able to get in the line up – we had to fight our way through spectators and go through the fence to even get on the course. The first mile of the race was very congested but things opened up after that. There were a TON of runners this year!
I settled into an 8:30 pace early on and was able to maintain around that for the duration of the race. I took a Gu at mile 8 and water at ever aid station. I kept waiting for my body to slow down but my legs just kept running. I felt strong, confident and so happy all 13.1 miles!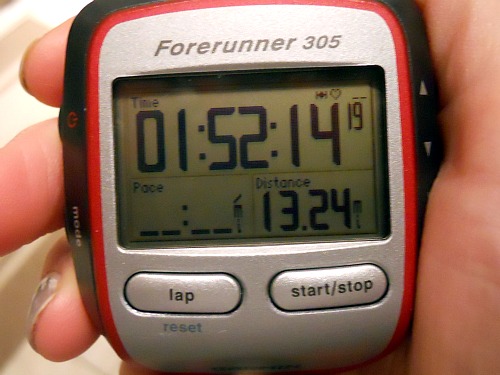 Here are the splits:
Mile 1: 8:35
Mile 2: 8:22
Mile 3: 8:29
Mile 4: 8:37
Mile 5: 8:45
Mile 6: 8:31
Mile 7: 8:27
Mile 8: 8:28
Mile 9: 8:19 (post Gu – I swear, they work!)
Mile 10: 8:32
Mile 11: 8:25
Mile 12: 8:30 (I was just starting to think, "hmm…this  hurts" but the race was almost over! LOVE half marathons!)
Mile 13: 8:14
Last .1 (really .24 for me): 8:08
FINISHING TIME: 1:52:14 – a new PR! (unofficial results)
I was thrilled that I was able to run a negative split for the second half of the race. An all-around wonderful race today! The best part was having Brandon waiting at the finish line to celebrate with me.
I know he has to be burnt out on coming to watch me race but knowing he's there makes me so motivated to finish strong. I was happy to find him waiting for me with a jacket and hand warmers. I immediately put the jacket on – I get SO cold after I finish running (and it was already cold out).
We hung out for a few minutes so that I could stretch a bit before heading to breakfast.
And we ran into Jodi, Meg and Mimi from lululemon on the way to the car.
I was going to see them again very soon for cheering at mile 24.5 (more on that later in the post).
I was starving after the race and we decided to hit up the Original Pancake House.
I refueled with a half-order of blueberry pancakes and a scrambled egg for protein.
Totally hit the spot. I said goodbye to Brandon when we finished eating and went to mile 24.5 to meet up with Meg and Mimi to cheer on the marathoners.
I really enjoyed cheering on the marathoners. Having just been there myself, I could totally sympathize with how they were feeling as they trucked up a huge hill (Thunder Road is a very hilly course) so late in the race. They were all very determined and inspiring. Our fun signs brought smiles to quite a few of the runners faces! 😉
I got to see reader Lauren and fellow blogger Branny pass by. I didn't get a picture of Lauren but Branny was looking AWESOME!
Congratulations to both of your for conquering 26.2 on such a tough course!!!
Today was a really fun day that reminded me again why I love running and the community of runners so much. I'm definitely on cloud nine right now!
Who else ran Thunder Road today? Please let me know how it went!!!