Happy GAMEDAY! College football kicks off this weekend and we're heading to the first Georgia football game of the season today!
When you grow up in Georgia,  it's pretty hard not to become a University of Georgia football fan. Bulldog football is literally a religion in this state and engrained in you from a young age. If this tells you anything, the first gift that we buy for any of our fellow Georgia friends who are expecting is always some sort of Bulldog onesie, bib or socks.
Brandon and I both attended the University of Georgia. We met our junior year and  he's been my gameday date ever since. 😉 (When you're in school it's a big deal for guys to ask girls to be dates for football games…silly!)
The first game this year is actually in Atlanta and not Athens because it's the SEC Kickoff Game. It's going to be weird to be in the Georgia Dome instead of Samford Stadium but I'm still excited to see the Bulldogs play!
I left work a little early yesterday so that we could hit the road to Atlanta. Car snackage (that prevented me from eating junk like the Flaming Hot Munchies that my husband purchased at a gas station!)  included…
Leftover quinoa with spinach, avocado, feta and greek yogurt.
And a Gingerade Kombucha…mmm…
I got a little bored during the trafficky four-hour trip so I started taking pictures of Sullie and playing with Instagram.
Our friends were having a cookout so we went straight there when we finally arrived in Atlanta.
It was so good to have everyone together again. My friend Meghan and her fiance Josh even flew in from San Diego for the game (and that's Meghan with Brandon…not Josh, obviously!).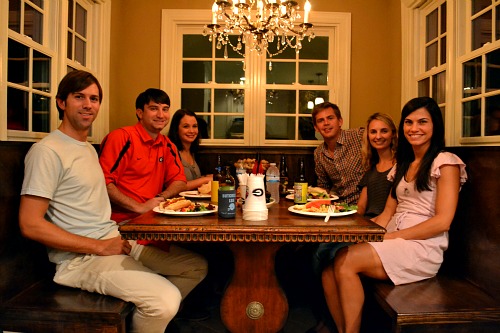 Dinner was delicious and we joked about how far our parties have come…what was once Bud Light and pizza has now become craft beer, wine and good home cooked food.
There were burgers and hotdogs but I loaded my plate up with the sides. I also baked salted fudge brownies and peanut butter chocolate chip bars but didn't snap a picture…although I did eat quite a few!
My sweet pup wasted no time making herself at home and was more than happy to help with clean up efforts. Does anyone else's dog lick the dishwasher. Sullie is a freak about it!
We finally headed to my parents house around midnight and crashed. I slept really well but I was wide awake at 7:30 so I decided to get a run in before everyone got moving.
I had a great run and got in almost five (super hilly!) miles.
Breakfast was plain greek yogurt with honey, a sliced apricot, toasted walnuts and dried fruit. I also had a slice of Great Harvest Whole Wheat Cinnamon Raisin Walnut toast.
Time to get decked out in red and black and meet our friends for a day of tailgating and football! 😀 😀 😀
(source)