Well, before we get to comfort food I feel the need to address this crazy show I'm watching on TV, Mobbed.
"Host Howie Mandel puts a hidden-camera spin on the "flash mob" concept. Mandel and hundreds of strangers will help special guests plan extraordinary surprises for friends, family members, loved ones or co-workers. These unknowing participants will be shocked and stunned by surprise performances that lead up to fantastic reveals that include a husband learning that his wife is pregnant, an applicant finding out that she got the job and a marriage proposal, among others."
What will they come up with next in reality TV!? Did anyone else see it? I was kind of on board with it until they put that horrible dress on her! 😉 I think the whole idea of flash mobs is intriguing.
Anyway…moving along. This week has been different for me because of the lack of early morning workouts due to the shoulder issue. I've slept until 7 every morning! Crazy. Even crazier is that I've really missed it. I'm going to break that streak tomorrow and make my triumphant return to hot vinyasa (sans chaturangas).
Breakfast at my desk today was overnight oats.
It was quite the combination – rolled oats, Bob's Red Mill Muesli, diced apple, diced strawberries, blueberries, diced bananas, plain Greek yogurt, vanilla soymilk, chia seeds and cinnamon. Topped with rhubarb preserves and almond butter.

I had a work lunch at 300 East so I didn't take pictures of my food but I just happened to order something that I have photographed before!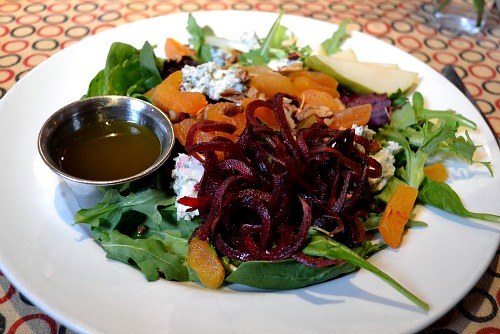 I had the bistro salad – mixed greens, roasted beets, pears, apricots, roquefort cheese and spiced pecans with balsamic vinaigrette. I love this salad. Such an awesome mix!
I taught BodyPump after work and unfortunately had to take it pretty easy. This is so hard for me because I just want to be my normal push up loving, high energy self.
Now, let's get to that comfort food! I've talked about this so much but this week has been so cold and rainy in Charlotte. When I asked Brandon what he wanted for dinner tonight he immediately went to comfort food. He requested meatloaf and mashed potatoes but there was no time for meatloaf after teaching class tonight. I roasted a pork tenderloin instead.
I rubbed a pork tenderloin with Dizzy Pig's Ragin' River, fresh rosemary and garlic and roasted it at 450 degrees for about 20 minutes (until internal temperature was around 145-150 and let is rest to 155-160).
Mashed taters and roasted brussels sprouts on the side. For some reason I really suck at making mashed potatoes. I can never get the consistency quite right. It's rather embarrassing that I can't master something so simple given my love for cooking. These were pretty good but not perfect and still provided that "comfort food" feel that we were looking for tonight.
And roasted brussels sprouts are THE best. If you don't think you like brussels sprouts you must try them this way. Brandon was a serious hater until I introduced him to these. Soooo good! Cut in half, drizzle with olive oil and generously season with kosher salt and pepper. Roast on 400ish for 20-25 minutes until golden brown and soft.
What are your favorite comfort foods?
HAPPY FRIDAY and HAPPY FIRST DAY OF APRIL!!!