Good evening everyone! I hope you had a great weekend. Mine was jam-packed with fun activities along with some less-fun things like errands and cleaning. Overall though, I feel much more sane and relaxed on this end of the weekend than I did going into it.
I kicked off Saturday with a 3.5 mile run with Sullie. It was a beautiful, cool morning and the run was so peaceful. Since it was early, I think we passed maybe two cars the entire time. I quickly changed and headed to the Y to launch BodyPump 77.
We had four instructors for the launch and each of us taught a few tracks from the new release. I taught back/hamstrings and triceps. The back track has a new innovation in this release (something that hasn't happened in far too long!) and it is awesome and so intense. I'm thinking about posting a short video later this week of me teaching part of it. Stay tuned!
Overall, I love BodyPump 77. I think it is challenging and I like the music! My favorites are squats, back, biceps, shoulders and abs. I love the lyrics of the biceps song, "Diamond Eyes" by Shinedown. It talks about saying goodbye to weakness and so long to regret. Perfect motivating words for a tough biceps track! The abs feature an "around the world" plank that is really hard but very effective. I'm excited to teach this release for the next couple of weeks.
With my fabulous co-instructor, Cynthia, after class. She has been teaching BodyPump since the very beginning…BodyPump 1!!!
After class I headed over to Lululemon for the last day of the showroom being open. I mentioned this a while ago but they are closing the Charlotte showroom and moving into a retail location. The new store opens on May 20!
Lululemon offers free showroom yoga every Saturday morning. They did "yogis" choice for who would lead the final class in the showroom and the overwhelming majority chose Johnna Smith (who was one of the teachers who led my teacher training!).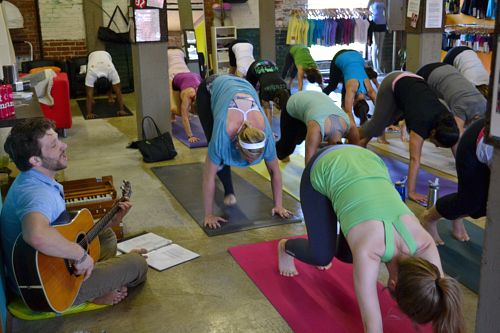 Adam Whiting (who was one of my fellow teacher trainees) played guitar and sang during the class. Unfortunately, I wasn't able to practice since I was late getting in from BodyPump but I did jump and assist a little. The vibe in the showroom was beautiful.
With a group of my yogis from teacher training. I love that I have a "yoga family" now. Seeing my them all over town makes me so happy! 😛
I had to leave the showroom for a long overdo haircut. I haven't had a haircut since before Christmas. I never go that long but I was looking to switch stylists and didn't have time to deal with finding one. I finally decided to make an appointment with Jason, the owner of Salon 42, after hearing how much Diana loves him.
I love my new haircut! It feels so much more styled and I'm glad that I was able to keep the length. And yes, I am posing with a giant cookie that Brandon and I split at lunch. Hey, it's a peanut butter cup cookie…I couldn't resist including it in the picture!
We had lunch at Owen's Bagel & Deli because they have great bagel sandwiches and were donating their proceeds to storm relief yesterday. I had a sesame bagel with hummus, avocado, sprouts, tomato and provolone.
And that's where the Saturday photos stop. We spent the rest of the afternoon shopping for our vacation (11 more days!) and visiting Brandon's grandmother. That night we had an engagement party to attend but I took a night off from snapping photos of everything. It was a wonderful party though!
I'm going to post Sunday happenings in a separate post later because I need to get some things done for work before bed. We are also watching 127 hours and it's causing me major anxiety. I seriously feel like I'm going to throw up over here! It was so bad that 15 minutes into the movie I had to read the story online so I knew what was going to happen. I haven't had to do that since last year's season finale of Grey's Anatomy (with the crazy gun man).
How do you do with scary/edge-of-your seat drama? Am I the only wuss who can't stand the suspense? 😉